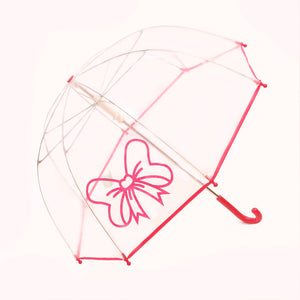 Just because it's raining outside doesn't mean she has to stay in. This stylish clear umbrella with the printed bow will leave her feeling pretty and dry no matter where she goes.
24'' diameter
Fabric: polyethylene and other material
Handle: plastic / metal
Wipe clean
Imported
About Pluie Pluie: Inspired by a need to make every rainy day a little brighter, Pluie Pluie creates cute rainwear for children. Good design and fun prints add flavor to this collection of rain coats, rain boots, and umbrellas that are easily mixed and matched.